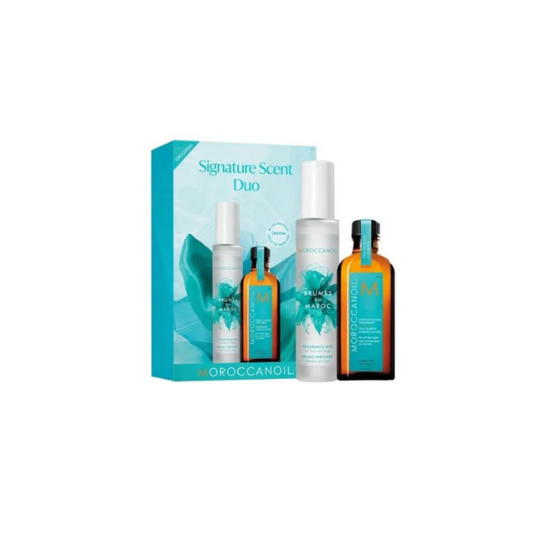 Moroccanoil Signature Scent Duo
Platinum Hair Extensions Ireland
Description

Set includes:


Moroccanoil  Brumes Du Maroc Fragrance Mist for Hair and Body 100ml
Signature Moroccanoil Treatment 100ml

Moroccanoil Brumes Du Maroc Fragrance Mist 100ml

Featuring the iconic signature scent a blend of spicy amber and sweet floral notes. Light, refreshing mist transports you to the Mediterranean with every spritz. The lightweight formula also includes antioxidant-rich argan oil and Vitamin E to nourish and hydrate, plus UV absorber technology to help protect and preserve the hair. Can be sprayed directly on hair, skin, and clothing throughout the day.

Moroccanoil Treatment 100ml
Experience the power of Moroccanoil, a revolutionary styling, finishing and conditioning product. Instantly absorbing, Moroccanoil Treatment helps eliminate frizz, excellent for detangling your locks and provides long term condition of your hair. Builds flexible strength, restores the shine and softness to once dull, lifeless looking hair and even protects against environmental damage. The unique quality of instant absorption allows it to impart instant shine without leaving an oily residue.